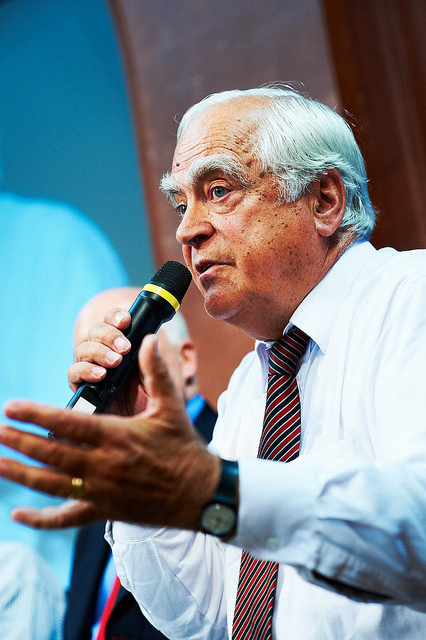 Peter Eigen, Founder and Chair of Transparency International will deliver the keynote address (Photo: Friends of Europe).
NEW YORK, November 7, 2013 - In a time where corruption infects much of the world's social, economic, and political processes, the Center for Public Scholarship at The New School presents its 30th Social Research conference: "Corruption." The two-day symposium examines global and US corruption in politics, business, and labor and explores possible options for reform.
"Corruption thrives despite efforts to constrain it. The conference roster of global experts will expose the corrosive effects of corruption, explores why it thrives, and what more can be done to reduce it," said Arien Mack, Alfred J. and Monette C. Marrow Professor of Psychology and director of the Center for Public Scholarship at The New School for Social Research.
Peter Eigen, Founder and Chair of Transparency International and Honorary Professor of Political Science at the Freie Universität in Berlin, will give the keynote address entitled "Corruption: Cause and Consequence of Failed Governance" on Thursday, November 21 at 6:00 p.m. A lawyer by training, Eigen has worked in economic development and governance for several decades, and has led programs and initiatives recommended by the World Bank across Africa and Latin America.

In addition to Eigen, participants in the 30th Social Research conference include James Jacobs, Chief Justice Warren E. Burger Professor of Constitutional Law and the Court and director of the Center for Research in Crime and Justice at New York University School of Law; Alina Mungiu-Pippidi, Professor of Democracy Studies at the Hertie School of Governance; Susan Rose-Ackerman, Henry R. Luce Professor of Jurisprudence (Law and Political Science) at Yale University; Bo Rothstein, August Rohss Professor in Political Science, Göteborg University; and more.
Admission to Corruption is $35 for the full conference and $12 per session. The conference is free for full-time students (with valid ID) and New School faculty, alumni and staff (with valid ID). Preregister online by clicking here, or by emailing cps@newschool.edu. Tickets will also be sold at the door, and seating is first come, first served.
The conference begins Thursday, November 21 at 6:00 p.m. and concludes Saturday, November 22 at 6:00 p.m. Sessions will be held in The New School's John Tishman Auditorium at 66 West 12th Street between Fifth and Sixth Avenues on Thursday, and at the Theresa Lang Community and Student Center at 55 West 13th Street on Friday. The complete program, speakers' bios, and paper abstracts can be reviewed online at http://www.newschool.edu/cps/corruption/.
Talks at the conference will be based on papers to appear in the Winter 2014 issue of Social Research: An International Quarterly, which will also include papers examining corruption in Kenya, India, Russia, and Latin America.

About Social Research: An International Quarterly
An award-winning journal, Social Research has been mapping the landscape of intellectual thought since 1934. Most issues are theme-driven, combining historical analysis, theoretical explanation, and reportage in rigorous and engaging discussion by some of the world's leading scholars and thinkers. Articles cover various fields of the social sciences and the humanities and thus promote the interdisciplinary aims that have characterized The New School for Social Research since its inception. Recent issues have focused on such themes as "Happiness," "Migration Politics," and "The Religious-Secular Divide." The Social Research conference series was launched in 1988 and aims to enhance public understanding of critical and contested issues by exploring them in broad historical and cultural contexts. For more information, visit www.newschool.edu/cps.
About the Center for Public Scholarship
The Center for Public Scholarship aims to bring the best scholarship and expertise to bear on current, pressing social issues in a way that makes the scholarship accessible to the public and simultaneously deepens understanding of what may be at stake and how to proceed. It seeks to become a catalyst for events that draw on the humanities, social sciences, design, and public policy and have the potential of accomplishing our mission, namely, enhancing the public's understanding of the significant issues of our time. The Center is dedicated to promoting academic freedom and freedom of inquiry, goals that are rooted in the earliest history and ideals of The New School.
Founded in 1919, The New School was born out of principles of academic freedom, tolerance, and experimentation. Committed to social engagement, The New School today remains in the vanguard of innovation in higher education, with more than 10,000 undergraduate and graduate students challenging the status quo in design and the social sciences, liberal arts, management, the arts, and media. The New School welcomes thousands of adult learners annually for continuing education courses and calendar of lectures, screenings, readings, and concerts. Through its online learning portals, research institutes, and international partnerships, The New School maintains a global presence. Learn more at www.newschool.edu.
###