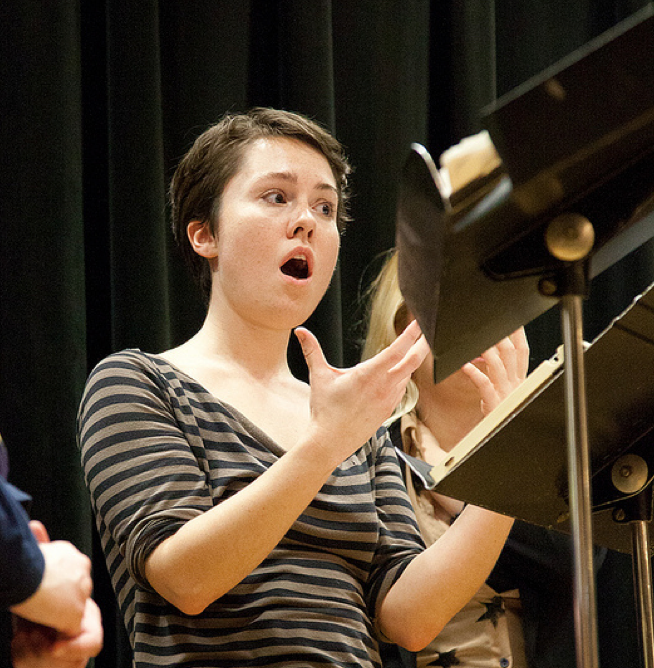 Caroline Shaw (Photo: Michael Skinner)
NEW YORK, June 4, 2013- Mannes College The New School for Music announced today that Caroline Shaw, the youngest winner of the Pulitzer Prize for Composition to date, will join Mannes for an exciting new project beginning in the fall of 2013. She will co-direct The New School Chorus with Eric Dudley, her collaborator in the lauded experimental vocal octet Roomful of Teeth.
The New School Chorus, offered through the Mannes Extension Division and comprised of members from across the university and New York City, will launch in the fall of 2013. The brand new ensemble will foster both joyful communal singing and the exploration of international music and singing styles. Under Shaw and Dudley's leadership, the chorus will perform a variety of genres, including Western choral masterpieces, Eastern European folk singing, classic American jazz and popular song, and traditional music from around the world. Throughout the year, The New School Chorus will offer public performances as well as additional opportunities to interact with the community.
Shaw was awarded the Pulitzer Prize for Composition for her "Partita for Eight Voices," which was written specifically for Roomful of Teeth. Inspired by the work of painter Sol LeWitt, "Partita for Eight Voices" was cited by the Pulitzer committee as an "inventive a cappella work uniquely embracing speech, whispers, sighs, murmurs, wordless melodies and novel vocal effects."
"I'm really looking forward to working with Eric to share what we love about vocal music with this brand new group," said Shaw, who, in addition to being a member of Roomful of Teeth performs as a violinist with the American Contemporary Music Ensemble (ACME). Shaw holds a B.M. in violin performance from Rice University, an M.M. in violin from Yale, and is currently pursuing doctoral study in composition at Princeton.
"With a mission focused on stimulating, supporting, and advancing the creative role of music in all aspects of a rapidly changing society, having artists like Caroline to lead critical community-based efforts like The New School Chorus, is a great example of how Mannes goes about meeting its mission." said Richard Kessler, dean of Mannes College.
Mannes College The New School for Music develops the next generation of classical musician/citizens by combining the music conservatory traditions with the cutting-edge advantage of being part of The New School, the nation's foremost progressive university. Founded in 1916, the Mannes formula for quality education has capitalized on its world-class faculty, location in the heart of the global arts capital, small class size, and a living tradition of rigor and depth that develops strong technique and great artistry. The Mannes ethos forms the basis of a vibrant community, whether you are a degree or diploma student in the College or Extension divisions, or a young person studying in Mannes Prep. In this second decade of the 21st century, when demands on artists are greater and more complex than ever, Mannes is committed to providing a wide range of exciting learning and knowledge building in partnership with its sister divisions of The New School, including one of the world's great design schools, Parsons The New School for Design; the liberal arts at Eugene Lang College; public policy, business, and civic engagement in The New School for Public Engagement; and cross disciplinary arts learning at The New School for Jazz and Contemporary Music and The New School for Drama. For more information on Mannes and The New School visit www.newschool.edu/mannes.