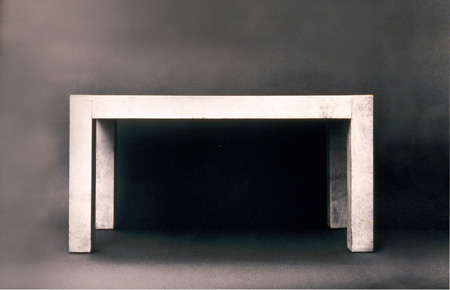 The original Parsons table, photographed by George Chinsee. Anna-Maria and Stephen Kellen Archives at Parsons, courtesy of John Esten.
NEW YORK AND PARIS, November 12, 2012— Parsons The New School for Design has announced it will establish a new academic center in Paris, opening in Fall 2013, which will build upon its long history of engagement and exchange with this world capital for art and culture.
In 1921, Parsons became the first American art and design school to establish a campus in Paris. Among its achievements, Parsons Paris was the birthplace of the Parsons table, an icon of Modern design, in a studio led by the designer Jean-Michel Frank in the 1930s.
"Parsons Paris has begun a new chapter," said Joel Towers, executive dean of Parsons The New School for Design. "Our new academic center will offer students from around the world an innovative education that addresses the global nature of contemporary art and design practice, and reflects distinctly European culture and philosophy."
Parsons Paris is situated in an intimate, atelier-like setting at 45 rue Saint-Roch in the 1st arrondissement near many of the city's important cultural destinations, including the Louvre, l'Opéra, and Musée des Arts Décoratifs. The school will offer undergraduate, graduate and study-abroad programs that reflect the areas of study at Parsons in New York, while contextualized to take full advantage of the city's cultural resources. This includes undergraduate programs in Fashion Design, Strategic Design and Management, and Art, Media and Technology; and graduate programs in Design and Technology, Design Studies, Fashion Studies, and the History of Decorative Arts and Design.
"With Parsons Paris, we are taking a strategic approach," said Renaud Dutreil, a trustee of The New School and president of the French association that will support the operation of Parsons Paris. "Rather than build a satellite of Parsons' New York campus, we are amplifying our heritage in the French capital to embrace art, design, business, government, and academic partners. Parsons is creating a model of excellence that is both global and local. It is also a significant act of trust in Paris as one of the main creative capitals in the world."
Parsons Paris will enroll an international mix of students, who will study with a faculty of French and European art and design educators as well as visiting professors from around the world. Students will become part of the larger community of The New School, the academic home of Parsons. This university, based in New York, offers interdisciplinary study in liberal arts, social sciences, international affairs, management, public policy, media studies and the performing arts. Students will be able to study online or at its New York campus, supplementing their coursework with classes in other subjects.
Parsons Paris represents the first step in a new global initiative at Parsons, which recognizes how the quickly expanding interaction between cultures, markets and regions of the world has revolutionized the practice of art and design.
"Today's rapid globalization requires a new academic model, one focused on creativity as a core literacy that impacts all aspects of society," said David Van Zandt, president of The New School. "Parsons Paris marks the beginning of our efforts to create a network of academic hubs in cities around the world, where students can fluidly engage both on site and online throughout the course of their studies, and prepare for careers in the creative industries in a global context."
In addition to Parsons Paris, the university is also developing projects in Mumbai, Shanghai, and other major urban centers. For more information, about visit www.newschool.edu/parsons/global-learning.
About Parsons The New School for Design
Parsons The New School for Design is one of the most prestigious schools of art and design in the world. Having established one of the first programs in the United States in fashion design, interior design, and graphic design, Parsons has a long legacy of art and design innovation. Among its famous alumni are the renowned artists Jasper Johns, Roy Lichtenstein, and Rob Pruitt; fashion designers Marc Jacobs, Donna Karan, and Tom Ford; photographer Steven Meisel; graphic designer Paul Rand; and a new generation of rising artists and designers including Ryan McGinley, Lazaro Hernandez and Jack McCollough of Proenza Schouler, Evan Roth, Alexander Wang, Jason Wu, and Julia Restoin Roitfeld. Since 1970, Parsons has been part of The New School, a university founded in 1919 as a place for radical ideas and thinking. Among those who have taught and studied at The New School are such leading twentieth century figures as John Dewey, Martha Graham, Margaret Mead, Isamu Noguchi, Aaron Copland, Marlon Brando, and many others. For more information, visit www.newschool.edu/parsons.
# # #