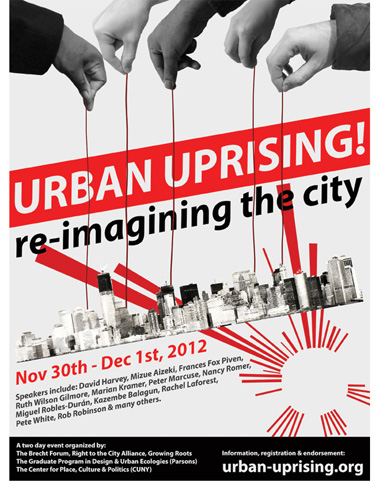 Urban Uprising, November 30 & December 1
Urban Uprising
Friday, November 30 at the CUNY Graduate Center
Saturday, December 1, at The New School
Free and Open to the Public
Visit urban-uprising.org for more information
NEW YORK, November 19, 2012-- As demonstrated by Hurricane Sandy and the current "Great Recession," preparing cities to confront the key challenges of the 21st century — environmental, economic, social and political — is more vital than ever before.
On November 30th and December 1st, the CUNY Graduate Center's Center for Place, Culture and Politics, The Right to the City Coalition, The Brecht Forum, Growing Roots, and the Design and Urban Ecologies program at Parsons The New School for Design is co-hosting Urban Uprising, a two-day conference that brings together architects, activists, urban designers and planners from around the country to re-imagine the city for the next hundred years.
The conference is focused on generating ideas that radically re-think what a city means, and how it can work to better serve its population. It will also look at the post-Sandy moment within New York City, which over the past several decades has faced crises of education, economic inequality, racial tensions, and growing environmental and ecological fragmentation.
"Hurricane Sandy has exposed the longstanding socio-economic and environmental crises that exist in New York," said Miguel Robles-Duran, Director of the Design and Urban Ecologies program at Parsons. "It is our responsibility as designers and engaged citizens to find new directions that radically depart from how the city is being built today, and participate in common forms of knowledge that support the claim for our right to the city."
Urban Uprising's first day, held at the CUNY Graduate Center, focuses on the global protest movements of the past year, from Arab Spring to Occupy Wall Street. Not since the 1960s have so many people across the globe taken to the streets to demand a more just and democratic society, access to housing, health care, education, food, jobs, a clean and safe environment and lives free from police violence. What lessons do these movements teach about the ways populations move, assemble, and work in a city? It will feature speakers David Harvey (Director, Center for Place, Culture, and Politics, CUNY Graduate Center), Frances Fox Piven (Distinguished Professor of Political Science and Sociology, CUNY), Rob Robinson (Campaign to Restore National Housing, Take Back the Land, US Human Rights Network), Peter Marcuse (Professor Emeritus of Urban Planning, Columbia University), Marian Kramer (Co-chair, National Welfare Rights Union, founding member, League of Revolutionary Black Workers), and Miguel Robles-Duran.
The second day, held at The New School's Tishman Auditorium, will feature participants from more than 80 civic organizations across the city collaborating in smaller working groups. By the end of the day, each group will have developed its own strategic action plan to radically alter the way a city works, and who it serves.

More information can be found at urban-uprising.org
Parsons The New School for Design
Parsons The New School for Design is a global leader in design education, with programs that span the disciplines of design and the fine arts. Parsons prepares students to creatively and critically address the complex conditions of contemporary global society. Its curriculum is geared toward synthesizing rigorous craft with cutting-edge theory and research methods, and encourages collaborative and individual approaches that cut across a wide array of disciplines. The first graduate programs of their kind in the United States, the Master of Science in Design and Urban Ecologies and the Maser of Arts in Theories of Urban Practice explore the development of urban space and its social, economic, political and environmental context. Both programs are housed in the School of Design Strategies at Parsons. For more information, please visit www.newschool.edu/parsons/sds.
# # #