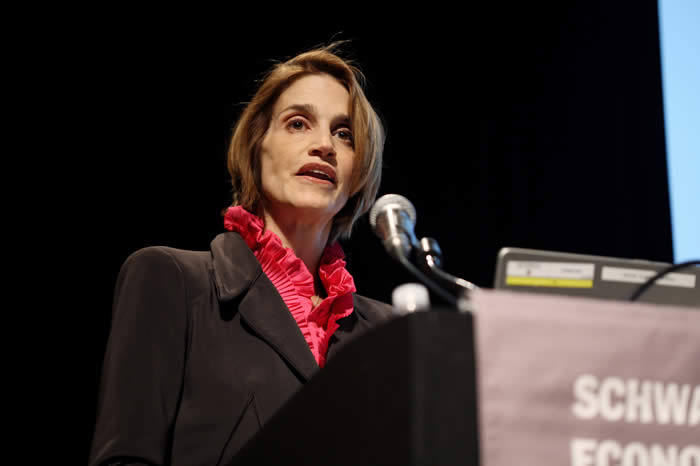 Teresa Ghilarducci, Director of the Schwartz Center for Economic Policy Analysis at The New School (Photo: Melisa Hom)

March, 26, 2012 New York, NY - A new plan designed by Dr. Teresa Ghilarducci, director of the Schwartz Center for Economic Policy Analysis at The New School and a nationally renowned expert on pension issues, would help provide retirement coverage for the nearly two million workers in New York City without access to retirement benefits through their employers.
New York City Personal Retirement Accounts (NYC PRA), similar to retirement accounts designed by Ghilarducci and now being considered by the California state legislature, proposes pooling employee and employer contributions into retirement funds that would be managed and invested by the Bureau of Asset Management (BAM), a unit of the New York City Comptroller's Office. BAM is responsible for overseeing the investments of New York City's five employee pension funds.
A recent report by The New School and the Comptroller's Office, entitled"Are New Yorkers Ready for Retirement?," found that more than one-third of New York City households near retirement age will have to subsist almost entirely on Social Security income because they have less than $10,000 in liquid assets.
"Our city is already experiencing the early stages of a burgeoning retirement crisis. Reports indicate that the number of elderly people in New York City's homeless shelters shot up 55 percent over the last ten years. Half of that increase occurred in the last two years alone," said New York City Comptroller John C. Liu.

"If we don't help people save for retirement during their working years, the later strain on the city's social services will be overwhelming," Comptroller Liu added. "We are not, nor do we want to be, a city that lets our retirees go hungry and homeless. Teresa's idea for New York City Personal Retirement Accounts will help seniors maintain a dignified retirement," he said.

"Social Security alone cannot adequately support workers in retirement. The decline of the traditional pension in the private sector has to be replaced by an alternative and New York City Personal Retirement Accounts is one way to fill that gap. Without it, seniors are in danger of falling into poverty and calling for help like the days before Social Security," Ghilarducci said.
NYC PRAs would supplement Social Security - which currently averages $1,200 per month - and significantly boost retirement income for participants. NYC PRAs would be portable and employees could opt-out of the program at any time. Self-employed workers and freelancers, a notable portion of the New York City workforce, would also be allowed to participate.
The proposal grants legal indemnity for fiduciary responsibility to participating employers. Benefits would be insured by the federal Pension Benefit Guaranty Corporation, which covers traditional pension plans currently in place in the private sector.
While NYC PRAs do not require any taxpayer funds, they could potentially reduce the burden on social services for seniors who lack retirement income and deliver significant governmental budgetary savings.
For more information on the NYC PRA, visit the SCEPA website at www.economicpolicyanalysis.org
The "Are New Yorkers Ready for Retirement?" report and fact sheet can be downloaded here: http://www.comptroller.nyc.gov/rsnyc/