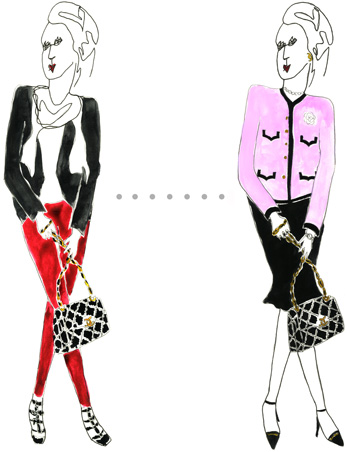 For Chanel, students developed an e-service tool that enables its clients to create digital closets of looks for various occasions.
New York, NY (December 6, 2012) – The Luxury Education Foundation hosted the final presentations of "The Design and Marketing of Luxury Goods," its interdisciplinary program with Columbia Business School and Parsons The New School for Design, where students collaboratively develop concepts for some of the world's leading companies. The program was established over a decade ago, and this year included Chanel, Hermès, Loro Piana, Pomellato and Van Cleef & Arpels.
"Now more than ever, luxury brandsmust learn how to'think young' in order to understand the new generations' preferences. This class gives these bright students an opportunity to share their perspective while the brands teach them how to integrate heritage and the 'codes' of the company in new and innovative strategies," said Barbara Cirkva, Chair of the Luxury Education Foundation and Division President for Fashion, Watches and Jewelry for Chanel, Inc.
The course serves as an incubator for new ideas. This year's projects included creating new technological initiatives for Hermès, developing e-services for Chanel Fashion clients, exploring opportunities for growing Van Cleef & Arpels' bridal business, proposing further integration of Loro Piana's e-commerce capabilities and its existing retail network, as well as creating a plan of attack to increase brand awareness in the U.S. for Pomellato's brand, Dodo.
"Our school's history is deeply rooted in partnerships with leading firms.  Our relationship with the Luxury Education Foundation is one of great importance to us as a means of continuing our tradition of combining design and business in today's leading companies." said Joel Towers, Executive Dean of Parsons The New School for Design.
Teams of eight students composed of both Columbia Business School MBA students and Parsons design students worked closely with top executives from the participating companies to develop their strategies and concepts. The course is designed by Ketty Maisonrouge, an adjunct Professor at Columbia Business School and President of the Luxury Education Foundation, and Jessica Corr, an Associate Professor at Parsons.
"Marketing is not a stand-alone activity in a luxury business. Rather, learning how to integrate both design and business at an early stage is of utmost importance and is already showing its effects in previous students' careers." said Amir Ziv, Vice Dean of Columbia Business School.
Parsons The New School for Design
Named one of the top design schools for creative talent by BusinessWeek, Parsons The New School for Design is one of the most prestigious and comprehensive degree-granting colleges of art and design in the nation. Parsons BBA in Design and Management blends traditional business courses with others emphasizing the strategic importance of product design innovation, sustainable business models, and business creation. Parsons has a long history of engaging leading corporations to develop design solutions for real-world business challenges, including Samsung, Siemens, Daimler AG and Microsoft. For more information, please visit www.parsons.newschool.edu.
About Columbia Business School
Led by Dean Glenn Hubbard, the Russell L. Carson Professor of Finance and Economics, Columbia Business School is at the forefront of management education for a rapidly changing world. The school's cutting-edge curriculum bridges academic theory and practice, equipping students with an entrepreneurial mindset to recognize and capture opportunities in a competitive business environment. Beyond academic rigor and teaching excellence, the school offers programs that are designed to give students practical experience making decisions in real-world environments. The school offers MBA and Executive MBA (EMBA) degrees, as well as non-degree Executive Education programs. For more information, please visit www.gsb.columbia.edu.
The Luxury Education Foundation
Established in December 2004, the Luxury Education Foundation is a public not-for-profit organization that focuses on educational programs for undergraduate and graduate students in Design and Business related to the creation and marketing of luxury goods. LEF programs provide students with various platforms to engage with senior executives in leading luxury firms to understand and appreciate the unique properties and fine craftsmanship as manifested in the industry.
# # #