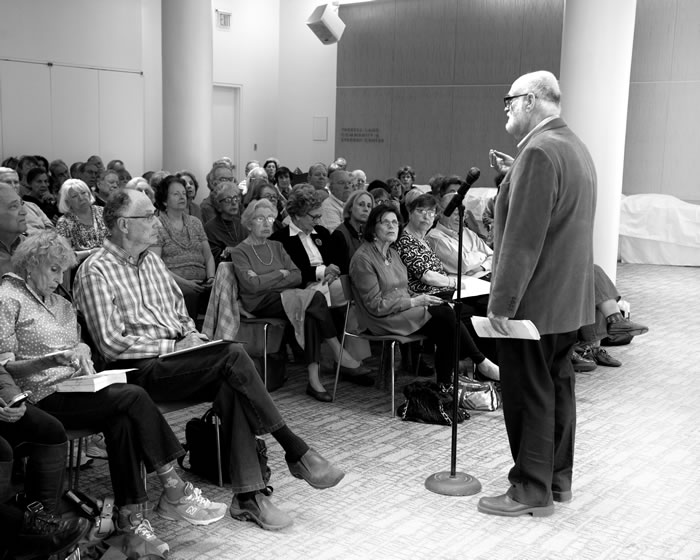 Institute for Retired Professionals director Michael Markowitz addressing group members (Matthew Sussman/The New School, 2012)

NEW YORK, October 11, 2012 – The Institute for Retired Professionals (IRP) at The New School marks its fiftieth anniversary with a year of free public lectures, panel discussions and performances. Speakers include presidential historian Robert Dallek (Oct. 13), and New School luminaries including Jane Ira Bloom (Nov. 2), Nina Khruschcheva (Feb. 8), James Miller (Mar. 8), and others.

In a statement proclaiming October 13 Institute for Retired Professionals Day, New York City Mayor Michael Bloomberg said, "New York City is the home of one institution in particular that has demonstrated both the power of education and the fact that ceaseless learning is life's greatest adventure, which is why we are happy to join The New School Institute for Retired Professionals in celebrating its fiftieth anniversary."

A pioneering experiment in peer learning, the IRP was established in 1962 by a group of New York City schoolteachers seeking an opportunity to learn from and teach one another. IRP members tap into their professional and life experience to develop, participate in, and teach weekly university-level courses. Today the IRP has a vast influence, having inspired the Lifelong Learning Institute (LLI) movement and more than 400 university-based programs which use the IRP model.

"With more Americans entering retirement than ever before, the IRP's mission of connecting retirees to lifelong learning has never been more important," said Michael Markowitz, director of the IRP. "Throughout our anniversary year, we are eager to host events that exemplify the open, informed discourse and community engagement that form the foundation of the IRP and The New School."


Institute for Retired Professionals 50th Anniversary Events

Saturday, October 13, 1:00 p.m.
Robert Dallek: The Making and Unmaking of American Presidents
Tishman Auditorium, 66 West 12th Street
Professor Dallek is a leading presidential historian. His many books include Franklin D. Roosevelt and American Foreign Policy, 1932-1945, winner of the Bancroft Prize for American history; acclaimed biographies of Harry Truman, John F. Kennedy, and Lyndon Johnson; and Nixon and Kissinger: Partners in Power, a 2009 finalist for the Pulitzer Prize. The program opens with the premiere of a new fanfare by David Tcimpidis of Mannes College The New School for Music, commissioned for the occasion by the IRP. There is public reception following the lecture.


Friday, November 2, 1:00 p.m.
Jane Ira Bloom: Creativity in Jazz: The Art of Improvisation
Wollman Hall, 65 West 11th Street (enter at 66 West 12th Street)
Jazz saxophonist Jane Ira Bloom has been a pioneer in the use of electronic sound in jazz performance. She is also the creator of "one of the most gorgeous tones and hauntingly lyrical ballad conceptions of any soprano saxophonist," in the words of one critic. She is a member of the faculty of The New School for Jazz and Contemporary Music. Professor Bloom explores her art in words and sounds, assisted by bassist Dean Johnson and pianist Dominic Fallacaro.

Friday, November 16, 1:00 p.m.
Jeremy Varon: Occupy Wall Street and the Right to Protest: What's Next?
Wollman Hall, 65 West 11th Street (enter at 66 West 12th Street)
Historian Jeremy Varon is an associate professor of history with a joint appointment to The New School for Social Research and Eugene Lang College The New School for Liberal Arts. He is interested in the relationship of knowledge, representation, and power in modern ideas. He is an organizer of Witness Against Torture, which is campaigning to close the Guantánamo prison and generally to expose and confront torture worldwide.

Friday, December 7, 1:00 p.m.
Robin J. Hayes: Beautiful Me(s)
Wollman Hall, 65 West 11th Street (enter at 66 West 12th Street)
Filmmaker Robin J. Hayes screens and discusses her recent documentary, Beautiful Me(s): Finding Our Revolutionary Selves in Black Cuba, in which African Americans and Afro-Cubans learn from one another about building community, forging coalitions, and responding to racism in their respective societies. Hayes is an assistant professor of management in the Milano School of International Affairs, Management, and Urban Policy.

Friday, February 8, 1:00 p.m.
Nina L. Khrushcheva: The Lost Khrushchev: A Family Journey into the Gulag of the Russian Mind
Wollman Hall, 65 West 11th Street (enter at 66 West 12th Street)
Professor Khrushcheva, member of the faculty of the Studley Graduate Program in International Affairs, is a great granddaughter of former Soviet Premier Nikita Khruschev. She edits the "Window on Russia" monthly column for Project Syndicate, an international association of 386 newspapers. Her work has appeared in the New York Times, Los Angeles Times, Wall Street Journal, International Herald Tribune, Financial Times, and The Nation. Her talk examines the contours of Russian national identity today and its importance for understanding Russian politics.

Friday, March 8, 1:00 p.m.
James Miller: Is the Examined Life Worth Living?
Wollman Hall, 65 West 11th Street (enter at 66 West 12th Street)
Professor James Miller's most recent book is Examined Lives: From Socrates to Nietzsche, a reexamination of Western ethical values through the lives of 12 philosophers, and the foundation for this lecture. He is a professor of politics and chair of the Committee on Liberal Studies in The New School for Social Research. Professor Miller received his PhD degree in the History of Ideas from Brandeis University. He is the author of five other books on the history of philosophy and the relationship of modern democracy to dissenting mass movements. He was a music critic for Rolling Stone (in the 60s and 70s) and Newsweek (in the 80s).

Friday, April 5, 1:00 p.m.
Mark Lachs, MD: Treat Me, Not My Age
Wollman Hall, 65 West 11th Street (enter at 66 West 12th Street)
Too often our culture defines the aging process negatively, instead of embracing it as a natural part of life. Nowhere is this problem more pronounced than in our healthcare system, where "ageist" medicine often makes it difficult for people to grow old with grace. With gentle humor and great wisdom, Dr. Mark Lachs, director of geriatrics for the New York Presbyterian Health System, is the author of Treat Me, Not My Age: A Doctor's Guide to Getting the Best Health Care as You or a Loved One Gets Older. He leads a grand tour of adult medicine, showing us how to navigate a complex and confusing system to achieve the best care and quality of life in our later years.

Closing Event of the IRP 50th Anniversary
Saturday, April 27, 1:00 p.m.
Ira Katznelson: Fear Itself
Tishman Auditorium, 66 West 12th Street
At the end of our 50th anniversary year, the IRP welcomes back to The New School Ira Katznelson, former Dean of The New School for Social Research, now Ruggles Professor of Political Science and History at Columbia University. Professor Katznelson is a member of the Academy of Arts and Sciences and the American Philosophical Society and a past president of the American Political Science Association. His books include When Affirmative Action Was White, and his latest, Fear Itself: The New Deal and the Origins of Our Time, which, according to Pulitzer Prize-winning author David Kennedy, "deeply reconceptualizes the New Deal and raises countless provocative questions." The program opens with a reprise the fanfare composed by David Tcimpidis of Mannes College for the IRP 50th anniversary. There is a public reception following the lecture.