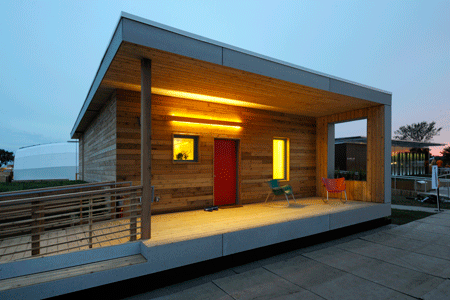 The Empowerhouse on the National Mall as part of the Solar Decathlon
WASHINGTON, D.C., June 15, 2012—Last evening, Mayor Vincent C. Gray presented a 2012 Mayor's Sustainability Award to Habitat for Humanity of Washington, D.C., in recognition of the Empowerhouse, the first Passive House in the District. The project is a partnership between Habitat, the D.C. local government, and students from Parsons The New School for Design, The Milano School of International Affairs, Management and Urban Policy at The New School, and Stevens Institute of Technology.
"Tonight's winners are dedicated to improving our city's environment, communities, and economy. Our ongoing effort to plan for a Sustainable DC for today and generations to come will build on the innovation, determination, and leadership we see among these dedicated members of our community," stated Mayor Gray.
Today's highest energy standard, a Passive House consumes up to 90 percent less energy than a typical home. The house, which first debuted at the Solar Decathlon, is now under construction in the Deanwood neighborhood of Washington. When it is completed in Fall 2012, it will be a home for two local families.
"To get something new accomplished, such as building the first passive house in the city, it has taken the talent and energy of people who could cross boundaries and work together in a truly innovative way," said Susanne Slater, President & CEO, Habitat for Humanity of Washington, D.C. "We are hopeful that our work inspires others to emulate sustainable design and construction initiatives."
The Empowerhouse originated as an entry in the Solar Decathlon, an international competition hosted by the U.S. Department of Energy that challenges collegiate teams from around the world to design, build, and operate solar-powered houses, which were exhibited on the National Mall Sept. 23–Oct. 2, 2011. The Empowerhouse team of students from Parsons, Milano and Stevens took the competition beyond the Mall, by designing their house for a specific site in Deanwood. The project won in the affordability category of the competition.
"When we first considered competing in the Solar Decathlon, we knew we wanted to have a real impact on the future of green housing," said Joel Towers, Executive Dean of Parsons The New School for Design. "By partnering with Habitat and the local D.C. government, we are creating a new model for affordability. Empowerhouse is designed as a "net-zero" system, and will produce all of its energy needs, which will greatly reduce costs for its homeowners."
For more information, please visit www.empowerhouse-dc.org.
# # #