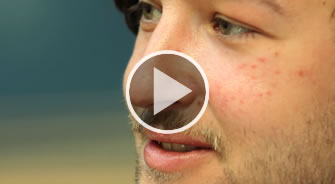 Click above to view a video about Ryan, a student at The New School for Public Engagmeent's Undergraduate Programs

NEW YORK (May 1, 2012) - The New School for Public Engagement has announced a new commitment of $100,000 to its prestigious Community College Transfer Scholarship program. The scholarships, which range from $2,500 to $5,000 per year, recognize academically outstanding part- and full-time students who have transferred from community colleges into The New School for Public Engagement's Undergraduate Programs.

"The New School was founded nearly a century ago to engage adult students with cutting-edge higher education," said New School for Public Engagement Executive Dean David Scobey. "This funding for the Community College Transfer Scholarships represents a further commitment to our founders' vision for a leading university rooted in democratic values."

The New School for Public Engagement's Undergraduate Programs offers a unique and intensive self-directed curriculum. Working with dedicated advisors, students design their own courses of study and choose from hundreds of classes across subject areas including psychology, literature, media studies, foreign languages, creative arts therapy, management, food studies, environmental studies, and global studies. Reflective of The New School's place at the forefront of higher education, the Undergraduate Program boasts faculty who are leaders in the fields: food studies pioneer Fabio Parasecoli, noted filmmaker Michele Materre, award-winning author Helen Schulman, and hundreds more.

Bachelor's candidates may extend their study into dual-degree programs in areas ranging from organizational change management to philosophy. In addition, students may take advantage of other New School divisions, including the world-renowned Parsons The New School for Design, Mannes College The New School Music, and The New School for Jazz and Contemporary Music.

"I take pride in the quality work dedicated professors and students did at my community college - and I'm proud now too of my time at The New School, where self-directed study particularly suits students with non-traditional backgrounds," says Mark Zettlemoyer, a student in The New School for Public Engagement undergraduate program and a recipient of a 2011-2012 Community College Transfer Scholarship. "I'm grateful for the Community College Transfer Scholarship which made finishing my degree possible."

For more information about The New School for Public Engagement's Community College Transfer Scholarships, visit us on May 5th's Are You New School Day, an in-depth event for prospective students. Taking place at The New School's 66 W. 11th Street building, Are You New School Day offers a jazz brunch with student performance, open conversations with students, faculty and staff; a panel discussion and q-and-a; and a campus tour. Register for the free event here: http://www.newschool.edu/bachelorsprogram/areyou-newschool-day/.