MANNES COLLEGE AND BUFFALO PHILHARMONIC ORCHESTRA
FORM EDUCATIONAL PARTNERSHIP
STUDENT CONDUCTORS-IN-RESIDENCE TO GAIN UNIQUE HANDS-ON TRAINING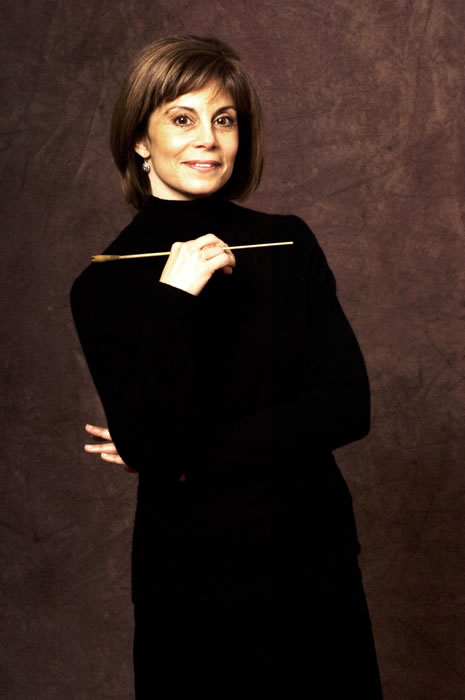 Buffalo Philharmonic Orchestra Music Director JoAnn Falletta

NEW YORK, October 23, 2012 - Mannes College The New School for Music announces the launch of an exclusive partnership with the Buffalo Philharmonic Orchestra (BPO), to give up-and-coming conductors professional experience with a leading American orchestra. Student Conductors-in-Residence from Mannes College will serve as cover conductors for the Philharmonic, as well as exposures to artistic decisions and orchestra management. For the BPO and Mannes this partnership is an important evolution in the curriculum for training conductors.

"This exciting partnership with the BPO exemplifies Mannes's commitment to building a bridge between artistic excellence and professional achievement," said Mannes College Dean Richard Kessler. "By applying New School founder John Dewey's philosophy of 'learning by doing,' our graduate-level student conductors will gain the unique skills, knowledge, and artistic understanding that can only be learned in the field. What is more, we are thrilled to be working closely with our alumna JoAnn Falletta, of whom we have always been deeply proud."

"We feel strongly here at the BPO about our role to help advance the careers of young musicians and our partnership with Mannes represents a major breakthrough," said BPO Music Director JoAnn Falletta. "The young conductors of Mannes will have an outstanding opportunity to work directly with our conductors, staff and musicians to gain the type of real world experience that will definitely make a difference in their careers."

The 2012-2013 Student Conductors-in-Residence Taeyoung Lee and Nimrod Pfeffer are both studying toward Master of Music degrees in orchestral conducting. Lee and Pfeffer will work directly with Falletta throughout the academic year, in addition to completing their coursework at Mannes.

"For many conductors, career advancement is a catch-22," said BPO Executive Director Daniel Hart. "You need experience to advance - but the opportunities are few and far between. The chance to work with a professional orchestra in this setting will definitely give these young conductors the first-hand experience they need to develop as artists and leaders."
About The New School
The New School, a leading progressive university in New York City, was founded in 1919 as a center of intellectual and artistic freedom. Today The New School is still in the vanguard of innovation and experimentation in higher education, with more than 10,000 undergraduate and graduate students in design and the social sciences, the humanities, management, and the performing arts and thousands of adult learners in continuing education courses. Committed to public engagement, The New School welcomes thousands of New Yorkers yearly to its celebrated public programs and maintains a global presence through its online learning programs, research institutes, and international partnerships. Learn more at www.newschool.edu.
About Mannes College The New School for Music
Mannes College The New School for Music develops the next generation of classical musician/citizens by combining the music conservatory traditions with the cutting-edge advantage of being part of The New School, the nation's foremost progressive university. Founded in 1916, the Mannes formula for quality education has capitalized on its world-class faculty, location in the heart of the global arts capital, small class size, and a living tradition of rigor and depth that develops strong technique and great artistry. The Mannes ethos forms the basis of a vibrant community, whether you are a degree or diploma student in the College or Extension divisions, or a young person studying in Mannes Prep. In this second decade of the 21st century, when demands on artists are greater and more complex than ever, Mannes is committed to providing a wide range of exciting learning and knowledge building in partnership with its sister divisions of The New School, including one of the world's great design schools, Parsons The New School for Design; the liberal arts at Eugene Lang College; public policy, business, and civic engagement in The New School for Public Engagement; and cross disciplinary arts learning at The New School for Jazz and Contemporary Music and The New School for Drama. For more information on Mannes and The New School visit www.newschool.edu/mannes.
About the Buffalo Philharmonic Orchestra
As Buffalo's cultural ambassador, the Grammy Award-winning Buffalo Philharmonic Orchestra under the leadership of music director JoAnn Falletta presents more than 100 concerts each year. Since 1940, the orchestra's home has been Kleinhans Music Hall, a National Historic Landmark with a reputation as one of the finest concert halls in the United States. The BPO has been invited to perform at Carnegie Hall as a participant in the prestigious Spring For Music festival in 2013. Only six orchestras nationwide are chosen from a national field for this honor. During the tenure of JoAnn Falletta, the BPO has rekindled its history of radio broadcasts and recordings, including the release of 24 new recordings on the Naxos and Beau Fleuve labels. For more information about the Buffalo Philharmonic Orchestra, visit www.bpo.org.
###

COMMUNICATIONS AND EXTERNAL AFFAIRS
79 Fifth Avenue,
New York, NY 10003
www.newschool.edu
PRESS RELEASE
Media Contacts:
Sam Biederman,
Associate Director of University Communications,
The New School
212.229.5667 x3094
biederms@newschool.edu
Susan M. Schwartz,
Director of Marketing and Communications,
Buffalo Philharmonic Orchestra
716.242.7811
sschwartz@bpo.org