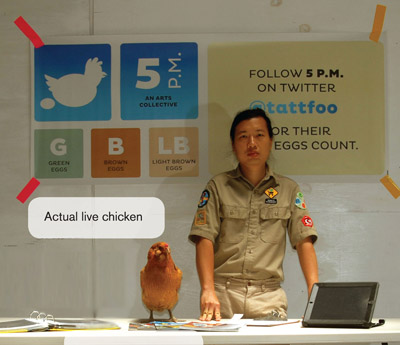 Tattfoo Tan, Raising Urban Chickens, Thursday, September 27

Art, Environment, Action!
September 28 - December 15, 2012
Opening Reception: September 27, 6:30 - 8:30 pm
Sheila C. Johnson Design Center
Parsons the New School for Design
2 West 13th Street, New York
www.newschool.edu/sjdc
Editor's Note: A full list of programs and artist bios is available for download by clicking here.
NEW YORK, August 28, 2012--On September 27, a member of the Staten Island collective, 5 P.M. (Poop Machine), will be assisting artist Tattfoo Tan in a workshop on raising urban chickens. This work should come naturally to the 5 p.m. member, because she is, in fact, a chicken.
The opening reception reflects the nature of the unusually interactive and interdisciplinary laboratory taking place this fall at the Sheila C. Johnson Design Center (SJDC) at Parsons The New School for Design, Art, Environment, Action! Over its nearly four-month run, this creative laboratory will bring together a diverse cross-section of artists, designers, architects, dancers, chefs, and scientists, working at the intersections of art, pedagogy, and ecology. Designed as a "toy box" of possibilities, the gallery will be continually transformed through dynamic programs that will rely on public participation. Visitors are invited to sign up for workshops, off-site explorations, walks, dialogues, and other interactive exchanges led by the artists, encouraging their active engagement as makers and thinkers. Artifacts of these exchanges will seed subsequent dialogue and interaction in the gallery.
"We see the galleries as spaces with which to think, rather than as venues for display," says Radhika Subramaniam, Director and Chief Curator of the Sheila C. Johnson Design Center and the curator of the lab. "Art, Environment, Action! is about catalyzing a culture of conversation, creative experience, and action. It is co-created by participants and artists." The show continues the SJDC's ongoing commitment to environmental issues as seen in its past exhibitions on urban agriculture and food systems (Living Concrete/Carrot City, Fall 2010) and climate change (U-n-f-o-l-d, Fall 2011.).
Programs include:
• Chez Panisse chef Jerome Waag, of the art/food collective, OPENrestaurant, will trace the ecology of the Atlantic Ocean through a culinary exploration of cod that includes a food-gathering safari and a cooking class.
• Futurefarmers, the collective founded by Amy Franceschini, will lead an ethno-botanical examination of New York City, which includes, in collaboration with Studio-X, an architectural workshop.
• During her two-week residency, Beatriz da Costa and her collaborators will develop an Anti-Cancer-Survival Kit incorporating print, online, smartphone, and physical objects for people living with cancer, as well as their friends and family. She will also lead workshops in anti-cancer cooking and gardening.
• Dance and design finds expression in two site-specific projects: Jill Sigman/thinkdance will construct and perform within a structure made out of discarded plastic bottles collected around the New School campus. Choreographer Jennifer Monson and architect Kate Cahill will lead an exploration of the Jamaica Bay wildlife refuge through movement and other means.
• The collective Ecoarttech will lead urban expeditions of the new school environs with their mobile app Indeterminate Hikes+, while artist Stephanie Rothenberg will lead a mixed-reality walking tour in the Bronx, using mobile devices to create augmented realities.
• The alternative barter for knowledge school, Trade School will be in residence throughout the month of October offering a range of workshops and classes.
• Mapping and re-appropriating space spurs the work of Public Laboratory for Open Technology and Science who will teach diy aerial mapping techniques, while Red76 will re-imagine the right to the city through music, internet radio broadcasts, and other collaborative action.
• Illustrators and graphic designers are invited to join Michael Mandiberg to create images and illustrations for environmentally oriented Wikipedia pages or work with the Beehive Design Collective to explore the complex history of mountaintop removal coal and learn to creative graphic stories collaboratively.
• The Cotard Syndicate leads participants in a series of perceptual tests that examine our relationship to the natural, while Eco-artist Beverly Naidus leads new ecological approaches to a city block.
Visit the SJDC website for a full list of programming, and to sign up for the workshops and other activities.
The Sheila C. Johnson Design Center is an award-winning campus center for Parsons The New School for Design that combines learning and public spaces with exhibition galleries to provide an important new downtown destination for art and design programming. The mission of the Center is to generate an active dialogue on the role of innovative art and design in responding to the contemporary world. Its programming encourages an interdisciplinary examination of possibility and process, linking the university to local and global debates. The center is named in honor of its primary benefactor, New School Trustee and Parsons Board Chair Sheila C. Johnson. The design by Lyn Rice Architects is the recipient of numerous awards, including an Honor Award from the American Institute of Architects. For more information, visit www.newschool.edu/sjdc.
###
General Information
Location: 2 West 13th Street, New York
Gallery hours: Open daily 12:00 p.m. - 6:00 p.m. and Thursday evenings until 8:00 p.m.; closed all major holidays and holiday eves
Admission: Free
Info: Please contact 212.229.8919 or visit www.newschool.edu/sjdc