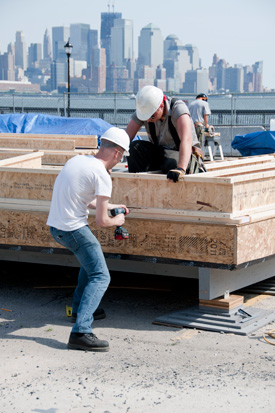 Empowerhouse students construct the competition house on the Stevens campus in Hoboken, New Jersey
WASHINGTON, D.C., June 29, 2011—Today, Empowerhouse, a team of students competing in the Solar Decathlon from Parsons The New School for Design, The Milano School of International Affairs, Management and Urban Policy at The New School, and Stevens Institute of Technology, broke ground on a solar-powered, two-family home in the Deanwood neighborhood east of the Anacostia River in the District of Columbia. Developed in partnership with Habitat for Humanity of Washington, D.C. (DC Habitat), and the D.C. Department of Housing and Community Development (DHCD), the house will be a model for green-energy, affordable housing and the first Passive House—the leading international energy standard—in the District of Columbia.
"This project brings to life the ability of design to make our world more energy independent. With so many families simultaneously facing a difficult economy and rising energy costs, this project could not be more timely," said Joel Towers, executive dean of Parsons The New School for Design. "This is the first time in the Solar Decathlon's history that a team has partnered at the outset with civic and government agencies to design and build a solar–powered home for a local D.C. community."
The U.S. Department of Energy Solar Decathlon is a biennial, international competition that challenges 20 collegiate teams to design, build, and operate solar-powered houses, which will be exhibited on the National Mall Sept. 23–Oct. 2, 2011. The Empowerhouse team will take the competition beyond the Mall, by designing and constructing a house for a specific site in the Deanwood neighborhood of Washington D.C. The house is currently under construction on the Stevens campus in Hoboken, N.J., and will be shipped to D.C. and reconstructed on the National Mall for the event. At the conclusion of the competition, it will be moved to Deanwood and expanded into a two–family home for local residents in collaboration with DC Habitat and the DHCD.
Each unit is designed as a "net–zero" system, one that produces all of its energy needs, but will achieve peak efficiency when joined. Adhering to Passive House principles, which have only just begun to be recognized in the United States, the house will consume up to 90 percent less energy for heating and cooling than a typical home. Through the use of these principles, the team's entry will have one of the smallest photovoltaic arrays of any in the competition.
"The Empowerhouse project challenges students to work together with fellow students who do not have the same technical background, and forces them to negotiate on design decisions in addition to facing the other issues of interdisciplinary teamwork," said Dr. Michael Bruno, dean of the Charles V. Schaefer Jr., School of Engineering and Science at Stevens Institute of Technology. "This project gives students an extraordinary opportunity to experience real–world scenarios first–hand. At Stevens we feel our students are well prepared for these challenges through our broad-based curriculum and extensive core design sequence."
Deanwood, a primarily African–American community, was selected as the site for the project due to its location in one of the greenest wards in Washington, D.C., and its history of community activism. Today, Deanwood and its surrounding neighborhoods are undergoing a powerful revitalization through economic development and environmental sustainability initiatives. Residents recently participated in the CarbonFree DC "Extreme Green Neighborhood Makeover," which green retrofitted low and moderate–income homes; in addition, the neighborhood is part of Groundwork Anacostia River DC, which brings environmental education and restoration projects to the communities along the river.

In developing the project, the Empowerhouse team hosted design charrettes with community members and conducted extensive research on the neighborhood, including its rich architectural history and sustainable practices and resources. In addition to creating new residences, the team has extended the project by leading workshops to educate residents on how to make their own homes more sustainable—from retrofitting solar panels to community gardening. The team is also creating a new learning garden in Deanwood, with related summer internships for community youth.
"Empowerhouse is an excellent demonstration of our commitment to creating sustainable, affordable housing for the residents of the District of Columbia. DHCD is pleased that Parsons, Milano, Stevens and DC Habitat are bringing this innovative and forward–thinking project to the District," said DHCD Acting Director John E. Hall. "This project provides a unique opportunity for the city and for the Deanwood community, and we expect that it will set a precedent for future Passive Houses in the nation's capital and across the country."
The community will play a direct role in building the house, in keeping with the Habitat for Humanity mission. "We have worked side by side with local residents to build homes in all parts of our nation's capital," said Kent Adcock, president and CEO of DC Habitat. "As we continue to 'green' our building practices, our homes become even more affordable for those we serve. Collaborating on the Empowerhouse model is a new opportunity to offer our partner families the best in home design, energy-efficiency and affordability."
DC Habitat will select the families who will occupy the home this summer, and they will join students from Parsons, Milano, and Stevens, local residents and other volunteers to construct the home. The team also is working with Deanwood's Lederer Community Youth Garden to provide plantings for a roof garden and vegetable window boxes; and will create a system of modular furnishings for the home.
"The team has taken a whole–life approach that reflects the students' wide range of expertise," said Neil Grabois, dean of The Milano School of International Affairs, Management and Urban Policy at The New School. "Sustainability stands at the intersection of a number of fields. From beginning to end, Empowerhouse has brought together more than 200 graduate and undergraduate students with backgrounds in management, urban policy, engineering, and design—from architecture to fashion design, product design, communication design, and design and technology—taking a fully interdisciplinary embrace of this challenge."
For more information, visit www.empowerhouse-dc.org.
Empowerhouse is made possible in part through the support of its sponsors, which include Binational Softwood Lumber Council, General Growth Properties Inc., Jones Lang LaSalle, the U.S. Department of Energy Solar Decathlon, Dow Solar, MetLife Foundation, Naturally:Wood, Sheila Johnson and The Washington Mystics, Tess Dempsey, the John L. Tishman Scholarships for Sustainable Development, Bosch, Buro Happold, Cefas LLC, Enterprise Community Partners Inc., Federal Home Loan Bank of San Francisco, Huber Engineered Woods, Intus Consulting, Kohler, M/E Engineering P.C., My Green Neighborhood, National Fiber, Nordic Engineered Wood, Zehnder, A. Joseph Schneider, AirDye, Airgenerate, AltPower, Boswell Engineering, CASE Design Inc., Humanscale, Intesis Software, Michele Miller, Mitsubishi Electric, Passive House Institute US, Perkins + Will, Robert Bilicki, Scholes Electric & Communications, SCL Elements, SIGA, Tyco, ValleyCrest Landscape Company, Viega, and Zavos Architecture+Design.