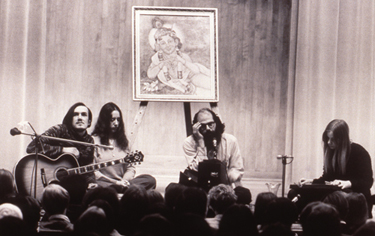 Alan Ginsberg speaks at The New School in the 1960s
NEW YORK, September 1, 2011--The New School presents New York City's richest and most diverse array of public readings, lectures and panel discussions on writing and literature. 2011 marks 80 years of creative writing education at The New School, which offered its first writers workshop in 1931 led by avant garde author and critic Gorham Munson.

EDITOR'S NOTE: CLICK FOR A FULL CALENDAR OF EVENTS. All public programs are subject to change.
On September 13, National Book Critics Circle-winner Philip Gourevitch will interview dissident Chinese poet Liao Yiwu. The interview, which marks Yiwu's first American appearance since he fled China in July, will be introduced by Booker Prize-winning novelist Salman Rushdie. The event is cosponsored by the PEN American Center.
Leading philosophers Judith Butler and Avital Ronell will join noted literary critic Helene Cixous for Affinities (Oct. 24), a panel discussion exploring the theoretical underpinnings of creative partnerships presented by Villa Gillet's "Walls and Bridges" series. The most influential writers of the year will convene for the National Book Awards Reading (Nov. 15), held annually at The New School on the eve of the awards.
Genre-defining rock and culture critic Greil Marcus will host four Riggio Forum events, which examine the connection between writing and democracy. Marcus will interview New York Times film critic A.O. Scott (Sep. 7), essayist and critic Gerald Early (Oct. 11), and novelists Dana Spiotta (Nov. 9) and Lee Smith (Dec. 7). An additional Riggio Forum will feature Lynne Tillman (Oct. 25), author of the short story collection Someday This Will Be Funny in discussion with Luis Jaramillo, associate chair, The New School Writing Program.
Fall also brings a new slate of New School Writers Forums, readings with emerging and influential authors followed by an intimate open discussion. Fiction Forum guests will include Jason Karlawish (Oct. 10), and William Melvin Kelley (Dec. 12) and others; Nonfiction Forums will feature naturalist Hugh Raffles (Sep. 19) and David Henderson (Dec. 1) and others; Poetry Forums will welcome Ben Lerner (Sept. 27), Robert Hershon (Oct. 26) and others; and Writing for Children Forums will feature Sarah Aronson (Sep. 13), as well as an industry panel on publishing (Oct. 11).
The New School's ongoing partnership with African-American poets' collective Cave Canem continues with two readings featuring some of literature's most promising new voices. Duriel Harris, M. Ayodele Heath, and Khadijah Queen will read on Sep. 1; Camille Dungy, Marcus Jackson, and Nagueyalti Warren will read on Nov. 1. The Women Writers of the Diaspora Series will also explore African-American literature with novelists Dahlma LIanos-Figueroa (Sep. 22) and Jacqueline Bishop (Oct. 27).
EDITOR'S NOTE: CLICK FOR A FULL CALENDAR OF EVENTS. All public programs are subject to change.