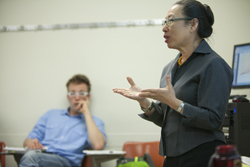 Sakiko Fukuda-Parr, Professor of International Affairs at The New School (Photo: Don Hamerman, 2011)
New York, August 18, 2011--The United States ranks 20th among 24 major industrialized nations in progressively ensuring citizens' political and economic rights, reports the new Social and Economic Rights Fulfillment (SERF) Index. Compiled by a team of researchers at The New School and the University of Connecticut, the SERF Index is the first-ever comprehensive measure of governments' performance in protecting and expanding their citizens' economic and social rights and opportunities.
In all of the SERF Index's six categories (food, health, housing, social security, education and decent work), the United States fell below the standard set by its peer nations. Evaluated by the index's algorithm, which uses census and survey figures from UNICEF, the World Bank and other international organizations, the United States falls to the bottom of all categories. The U.S. received its lowest scores on the right to education (68 of 100) and the right to decent work (61 of 100 points).
"As philosopher Amartya Sen points out, freedom comes from the ability to pursue life options, and that is not possible without a minimum of economic and social opportunities. As Congress begins to reexamine federal spending, the United States' poor performance on the SERF should be a wake-up call to representatives how the government has failed in its obligation to improve the lives of its constituents," said Sakiko Fukuda-Parr, Professor of International Affairs at The New School, who co-developed the SERF Index. "This is not just a moral obligation but a legal one--under international law, governments must progressively expand economic and social freedoms. That's why the SERF Index reorients our notions of which countries are the most 'free.'"
The SERF was developed by Fukuda-Parr and Terra Lawson-Remer, Assistant Professor of International Affairs at The New School; and Susan Randolph, Professor of Economics at the University of Connecticut. Assessing nations' fulfillment of their economic and social rights responsibilities on a scale of one to 100, the SERF is the only human rights index that:
Objectively measures the performance of governments in progressively realizing economic and social rights;
Can assesses whether the overall situation in a country is improving or deteriorating;
Allows cross-country comparisons in rights fulfillment;
Provides a methodology to examine disparity in rights fulfillment between regions, or between racial and ethnic population sub-groups.
"It is hard to overstate the importance of this index as an advocacy tool. This is a credible index that all activists need to use," said Larry Cox, Executive Director, Amnesty International USA. "The SERF Index has the potential to destroy counter-arguments from governments who aren't fulfilling their economic and social rights obligations."
The SERF initiative is partnered with the Social Science Research Council and has received generous funding from the National Science Foundation and The New School. To learn more, visit www.serfindex.org.