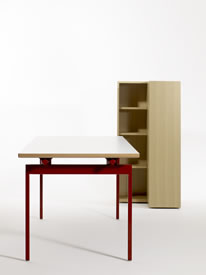 Antenna Design, Workspaces for Knoll Inc.
NEW YORK, November 1, 2010—The School of Constructed Environments at Parsons The New School for Design presents Quotidian Product: Paris / New York, a dialogue between two significant product design studios in Paris and two in New York: Jean-Francois Dingjian and Eloi Chafai of Normal Studio, and Francois Azambourg of Francois Azambourg Works in Paris; and Sigi Moeslinger and Masamichi Udagawa of Antenna Design, and Jeff Miller of Jeff Miller Design in New York.
Each studio is known for meaningful and extraordinarily well-crafted and detailed products that from a distance may look everyday, but upon closer examination communicate subtle intelligence and uncommon sensitivity to our daily experience. The designers will present projects, and explore cultural differences and similarities in their work.
Paris and New York share histories of liberty, luxury, poverty, immigration, and national identity. These histories are reflected through the history of Parsons itself, which founded the first U.S. design program in Paris in 1920, where students designed the iconic Parsons table in a class taught by Jean-Michel Frank in the 1930s.
Through the lens of their respective metropolises, these designers will address such themes as the modernist promise, the disappearing middle class, future thinking and daily practice. Rama Chorpash, director of Product Design at Parsons, will moderate the dialogue with Laetitia Wolff, a New York-based French design curator and strategist.
Quotidian Product: Paris / New York will take place November 18th at 6:00 pm at Wollman Hall, The New School, 66 West 12th Street, Fifth Floor (entrance is through the ground floor courtyard). The event is free and open to the public. Seating is limited. For more information, visit www.newschool.edu/events.
Supported by The Cultural Services of the French Embassy / Maison Française.
Parsons The New School for Design prepares students to creatively and critically address the complex conditions of contemporary global society. Its curriculum is geared toward synthesizing rigorous craft with cutting-edge theory and research methods, and encourages collaborative and individual approaches that cut across a wide array of disciplines. The School of Constructed Environments at Parsons is the only integrated school of interior design, lighting design, product design and architecture in the country. For more information, please visit www.newschool.edu/parsons/sce.
# # #