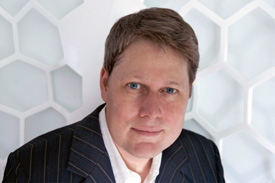 Rama Chorpash
NEW YORK, September 14, 2010—Parsons The New School for Design has announced that the award-winning designer Rama Chorpash has been named director of Product Design in its School of Constructed Environments.
"Rama's wide breadth of knowledge, his collaborative design approach, and experience working in a number of industries makes him a perfect fit at Parsons," said William Morrish, Dean of the School of Constructed Environments at Parsons. "At the School of Constructed Environments we are blurring the lines between architecture, interior design, lighting design and product design to reflect the evolution of these fields."
The product design program at Parsons, which features a Bachelor of Fine Arts, immerses designers in the materials, fabrication processes, aesthetic considerations and social implications of creating objects. Students acquire the critical and technical skills necessary to explore and responsibly integrate the swiftly expanding roles of the profession. In addition to directing the BFA, Chorpash will also be involved in the development of a graduate program in Product Design, and will teach collaborative studios that engage the complexity of contemporary design as well new means of manufacturing.
"It is an exciting time to be leading product design at Parsons," said Chorpash. "The interdisciplinary dialogue that is happening not only within the School of Constructed Environments, but with faculty and students from fashion design, design and technology and other areas of practice truly capture what it means to be a product designer in the 21st century."
Through his namesake New York studio, Chorpash develops objects that explore contemporary social use and production through the design of benchmark products, environments, furniture, and art. He has designed for companies such as: Herman Miller, Swatch Watch, Hewlett Packard, and Colgate. He has worked at ECCO Design New York, with the advertising agency DM9/DDB Brazil, and helped establish the Swatch Lab New York, where he designed for many collections and participated in the design of the 1996 Centennial Olympic Pavilion in Atlanta.
Chorpash's designs have been exhibited nationally, from the Museum of Modern Art in New York to the San Francisco Museum of Modern Art, and internationally from Portugal's Bienal da Prata to Art Basel in Switzerland. His work has been honored in the ID Annual Design Review and the Industrial Design Excellence Awards (IDEA). He previously served as the chair of Industrial Design at The University of the Arts in Philadelphia.
The School of Constructed Environments at Parsons also has appointed new faculty members that expand its expertise in the areas of environmental technology and materials science. These appointments include:
Alice Chun, Assistant Professor of Design, Material Culture and Fabrication, will also serve as curator of the Angelo Donghia Materials Library and Study Center at Parsons. Prior to her appointment, she taught in the core graduate design studios at Columbia University, with an emphasis on material experimentation and invention strategies. She is also the principal of Alice Chun Studio and the recent recipient of a grant to research and produce a new material prototype integrating fabric and photovoltaics, and her work has explored a variety of applications for interior material experiments. Her teaching focuses on cross-cultural, design-build studios; energy-harnessing technologies; and the development of wall prototypes for use in interior and exterior architectural applications.
Anupama Kundoo, Assistant Professor, Environmental Technology and Material Sciences (appointment begins in January 2011), is a graduate of the University of Bombay and has practiced as an independent architect since 1990, producing a number of award-winning projects in which sustainable building technologies and infrastructural systems were developed as an integral part of the architecture, and which have been extensively featured in international publications. She completed her doctoral studies in 2008 at the University of Technology in Berlin, where she has been teaching architecture and urban management. She recently authored the book Roger Anger: Research on Beauty and is currently working on her next book, Building with Fire: Baked-Insitu Mud Architecture.
David White, Assistant Professor, Environmental Technology and Material Sciences, holds an MArch degree from the College of Environmental Design at the University of California, Berkeley, and a BA in Architecture and Engineering Sciences from Yale University. In 2009 White opened a consulting office for energy efficient buildings, drawing on his experience as a climate engineer and training in energy efficiency and environmental quality.