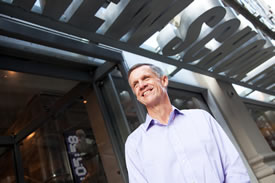 David Van Zandt will be The New School's next president
New York, August 26, 2010—The New School Board of Trustees announced today the appointment of David E. Van Zandt, dean and professor of law at the Northwestern University School of Law, as the eighth president of the university. The New School, which offers some of the nation's most respected degree programs in the humanities and social sciences, design, public administration, and the performing arts, has transformed in recent years into a major urban university that remains faithful to a history of civic engagement and democratic ideals.
"We are proud to welcome David Van Zandt to The New School," said Michael J. Johnston, chair of the Board of Trustees. "Since 1919, New School leadership has stood at the vanguard of American higher education. The New School today has emerged as a major degree-granting university with academic strengths in the humanities and social sciences, design, public administration, and the performing arts. I am confident that David Van Zandt will make lasting and meaningful contributions here, building on our legacy of preparing socially responsible citizens for the challenges of the future. I along with the rest of the Board and the university community look forward to working with David."
Dr. Van Zandt will assume his new position as president of The New School on January 1, 2011. He succeeds the university's current president, Bob Kerrey, who will remain as New School president until the end of 2010 to ensure a seamless transition. Kerrey, who was appointed in 2001, led The New School during a period of unprecedented growth.
"The New School today is a transformed university, experiencing unparalleled expansion in enrollment, new programs and exceptional teaching," Dr. Van Zandt said. "The strengths of the university's faculty and students and its innate capacity to reach across disciplines are extraordinary. Recent success with new degree programs, growing enrollments and a blossoming campus in Greenwich Village, must continue to blend effectively with the spirit of small classes and seminar-style learning. During a period in which higher education is facing a number of critical challenges, The New School is the kind of university where everyone's voice is welcome and every opinion is heard. It is at the forefront of progressive education. I am excited about this opportunity to work with so many talented individuals — faculty, staff, students, and alumni — as we meet those challenges."
Dr. Van Zandt has been a faculty member at Northwestern since 1985. Shortly after becoming dean of the law school in 1995, he spearheaded a strategic plan to make the school more competitive and recently led an exhaustive analysis of the legal education market that resulted in new and enhanced initiatives to maximize graduates' success. His recruitment of faculty who hold both JD and PhD degrees also has distinguished the school with its focus on discipline-based research about law and legal institutions.
During his tenure at Northwestern, Dr. Van Zandt created the largest JD-MBA program in the country, raised the school's public profile, influenced annual giving, which nearly doubled, and forged numerous cross-cultural relationships with students and legal institutions internationally. Under his leadership, Northwestern became the most diverse top-tier law school in the U.S.
A sociologist who received his PhD from the London School of Economics, Dr. Van Zandt has widely lectured and published in professional and scholarly journals. He is a graduate of Yale Law School, where he was managing editor of the Yale Law Journal. He has served as a law clerk to both Judge Pierre N. Leval of the Court of Appeals for the Second Circuit in New York City, and to Supreme Court Justice Harry A. Blackmun. Prior to entering the academy in 1985, Dr. Van Zandt was an attorney with the New York office of Davis Polk & Wardwell.
Dr. Van Zandt takes the helm of a university poised to continue on a trajectory of growth. Over the last ten years, The New School has doubled the number of full-time faculty, extended tenure across academic divisions, dramatically increased the number of students enrolled in degree-granting programs, and improved campus governance. The university's financial affairs are also in excellent shape, with balanced budgets and solid growth in endowment, even during uncertain economic times.
This naming of a new president comes just days before the start of the academic year with more than 10,000 students returning to campus in 91 degree-granting programs. This semester, construction will begin on the largest capital project in the university's history: a 16-story, multi-use building with state-of-the-art classrooms, student residences, a library, and an auditorium open to the entire New York City community. Scheduled to be completed in September 2013, the University Center will be built to superior environmental standards and serve as a teaching tool for sustainable design.
The search for a new president began in March 2010. The search committee, which included student, faculty and administrative representation, was charged with presenting to the Board of Trustees a demonstrated academic leader who valued the university's tradition of discussion and dissent. In order to ensure transparency, The Board of Trustees hosted a website, to provide updates on the search process and invite comments and nominations from the community.
"This search attracted a terrific array of candidates," said Laura Frost, associate professor of literary studies and a member of the search committee. "David Van Zandt is an outstanding scholar and administrator and has demonstrated an intellectual affinity with our colleagues and our students. An innovative thinker who is dedicated to academic excellence, he has built bridges among the practices of law, business, and the social sciences throughout his career. He is uniquely qualified to lead The New School."
For a full, downloadable media kit, please visit www.newschool.edu/vanzandtmediakit/
###