THE NEW SCHOOL'S SOCIAL RESEARCH JOURNAL ANNOUNCES CONFERENCE ON CHANGES IN U.S. FREEDOM OF INFORMATION IN AGE OF GLOBALIZATION AND TECHNOLOGY
Keynote Address by Seymour Hersh, Pulitzer Prize Winning Journalist;
Featured Speakers Daniel Ellsberg, Eric Lichtblau, Steven Aftergood

"Limiting Knowledge in a Democracy," February 24 – 26
The New School, New York City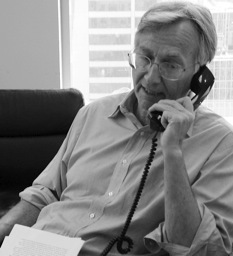 Keynote Speaker Seymour Hersh
New York, January 15, 2010—As waterboarding and wiretapping continue to fuel a debate on the government's use of secrecy, The New School for Social Research and its flagship journal, Social Research: An International Quarterly, will host "Limiting Knowledge in a Democracy" from February 24–26 at The New School in New York City. The conference will continue The New School's legacy as a progressive research institution by exploring secrecy and access to knowledge as a means either to support or undermine democracy. Additionally, the conference will analyze the practical application of the United States' commitment to freedom of information in an increasingly global and technologically advanced society.
"This conference will look at how and when Americans interpret limits on access to information – by both government and corporations - as either outright censorship or necessary confidentiality," said Arien Mack, editor of Social Research and the Alfred and Monette Marrow Professor of Psychology at The New School for Social Research. "As we face decentralized networks of communication and conspiracy, The New School is proud to offer an interdisciplinary forum that will tackle the full breadth and depth of one of the bedrocks of our democratic values. We look forward to bringing together leading journalists, academics, and professionals to explore these cultural expectations and ways in which current events limit our demand for full access to information."
Leading this discussion are prominent names from diverse backgrounds whose actions have influenced both the history and future of the United States' relationship to the ideal of freedom of information. Seymour Hersh, the Pulitzer Prize winning investigative journalist who broke stories ranging from the My Lai massacre to Abu Ghraib prison, will open the conference on Wednesday evening with a keynote speech. Featured panelists include Daniel Ellsberg, a former U.S. military analyst known for leaking the Pentagon Papers to the media; reporter Eric Lichtblau, author of the 2006 Pulitzer Prize winning story in the New York Times revealing the National Security Agency's wiretapping program and 22-year veteran reporting on the U.S. Justice Department; and Steven Aftergood, an expert frequently quoted in national media regarding national security and secrecy developments, director of the Federation of American Scientists Project on Government Secrecy, and author of the popular blog Secrecy News.
The conference will discuss the continuity of Americans' interpretation of their right to freedom of information. Beginning with a look back from the McCarthy period to the current Administration, panelists will investigate the democratic processes that allow for periods in which access to knowledge and information is severely limited and identify the path back to a normal state. Speakers will also analyze the many institutions and influences that impose limits on knowledge and control the flows of information, including the increase in both access to information and exposure to potential threats resulting from technology and globalization. Topics include the powers and dangers of the internet (Jonathan Zittrain, Harvard Law School Professor and Co-Director of the Berkman Center for Internet & Society), the value and limits of scientific inquiry in the debate on global warming (Michael Oppenheimer, Albert G. Milbank Professor of Geosciences and International Affairs at Princeton University), media censorship (Nicholas Lemann, dean of The School of Journalism at Columbia) and economic sanctions and secrecy (David Aufhauser, Senior Advisor, Center for Strategic and International Studies and former general counsel U.S. Department of Treasury).
To view the conference agenda and speakers, visit www.socres.org/limitingknowledge. In addition to panel discussions, the conference will feature a film screening of Secrecy by Peter Galison and Robb Moss, followed by a Q&A with Galison, and an optional guided tour of the Metropolitan Museum of Art discussing how art has engaged in questions of secrecy and free expression. Tickets are $15 per person and include general admission to the museum.
Conference tickets are $35 for the full conference; $8 per session. Tickets for nonprofit staff and members are $15 for the conference and $5 per session. Full-time students (with valid ID) and New School students, alumni and faculty are invited to attend for free. Advance registration is required online at www.socres.org/limitingknowledge.
The conference is the 21st in a series organized by the New School for Social Research's award-winning journal, Social Research. This conference is made possible by generous support from Eugene Lang College The New School for Liberal Arts, Rockefeller Brothers Fund, and Russell Sage Foundation.
About Social Research, An International Quarterly of the Social Sciences – An award-winning journal, Social Research has been mapping the landscape of intellectual thought since 1934. Most issues are theme-driven, combining historical analysis, theoretical explanation, and reportage in rigorous and engaging discussion by some of the world's leading scholars and thinkers. Articles cover various fields of the social sciences and the humanities and promote the interdisciplinary aims that have characterized The New School for Social Research since its inception. Recent issues have focused on such themes as "Free Inquiry at Risk: Universities in Dangerous Times" and "Russia Today," with a forthcoming issue on "The Religious-Secular Divide." The Social Research conference series was launched in 1988. The conferences aim to enhance public understanding of critical and contested issues by exploring them in broad historical and cultural contexts. For more information, visit www.socres.org.
About The New School – Located in the heart of New York's Greenwich Village, The New School is a center of academic excellence where intellectual and artistic freedoms thrive. The 10,200 matriculated students and more than 6,400 continuing education students come from around the world to participate in a wide range of undergraduate to doctoral programs in art and design, the social sciences, management and urban policy, the humanities and the performing arts. When The New School was founded in 1919, its mission was to create a place where global peace and justice were more than theoretical ideals. Today, The New School continues that mission, with programs that strive to foster engaged world citizenship. For more information, visit www.newschool.edu.
# # #