PARSONS DESIGNERS SWEEP INAUGURAL FASHIONS
First Lady Michelle Obama's Inaugural Fashions include
Parsons Trained Designers Isabel Toledo, Narciso Rodriguez and Jason Wu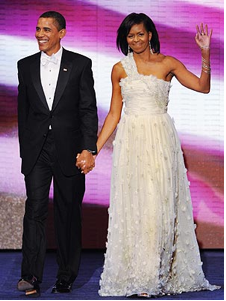 Michelle Obama in Jason Wu
NEW YORK, January 21, 2009 -- From her inaugural ball gown to the daytime ceremony dress, and other fashions worn in the festivities leading up to Inauguration Day, Parsons The New School for Design was well represented by Michelle Obama as she paid tribute to American fashion through the work of three Parsons-trained designers: Isabel Toledo, Narciso Rodriguez, and Jason Wu.
Michelle Obama has made a conscious effort to support both established and under-the-radar American designers throughout the presidential campaign and post-election events. Toledo, Rodriguez and Wu represent a diversity of voices that comprise American fashion.
Toledo, who took fashion courses at Parsons early in her career, is a Cuban-American designer based in New York. An avid seamstress from a young age, her work reflects not only a distinct design sense but also a keen understanding of garment construction and appreciation for the geometric intricacies of pattern shapes. In 1984, she married artist Ruben Toledo and in 1985 presented her first collection. Along with her husband, Toledo was the recipient of the Cooper-Hewitt Design Award for their work in fashion in 2005.
Rodriguez, also a Cuban-American, attended the BFA Fashion Design program at Parsons in the early 1980s. He went on to work at Anne Klein under Donna Karan and Calvin Klein before launching his own label in 1998. In 2005, he became the first American to win the Council of Fashion Designers of America Womenswear Designer of the Year Award two years in a row.
Wu, 26, attended the BFA Fashion Design program earlier this decade. He was born in Taipei and grew up in Vancouver, Paris and Tokyo. During his time at Parsons, Wu interned with Narciso Rodriguez and in 2006 Wu debuted his first collection. In 2008, Wu received Fashion Group International's Rising Star Award for Women's Ready-to-Wear, and also was a finalist in the CFDA/Vogue Fashion Fund.
With the establishment of the first fashion design program in America in 1906, Parsons is credited with giving birth to Seventh Avenue, the epicenter of American fashion. In addition to Toledo, Rodriguez and Wu, notable designers who trained at Parsons include the design legends Adrian, Claire McCardell and Norman Norell; industry leaders Tom Ford, Marc Jacobs, Donna Karan, Isaac Mizrahi, and Anna Sui; and rising talents Chris Benz, Doo.Ri, Derek Lam, Ohne Titel, Thakoon Paniguchal, Proenza Schouler, Peter Som, Vena Cava, and Alexander Wang. For more information, please visit www.newschool.edu/parsons/.
EDITOR'S NOTE: TO SPEAK TO A FASHION DESIGN EXPERT AT PARSONS ABOUT INAUGURAL FASHIONS, PLEASE CONTACT DEBORAH KIRSCHNER AT 212.229.5667 X4310 OR KIRSCHND@NEWSCHOOL.EDU.