THE ROBERT GLASPER TRIO AND THE BIRD AND THE BEE TO PERFORM BENEFIT CONCERT FOR THE NEW SCHOOL
FOR JAZZ AND CONTEMPORARY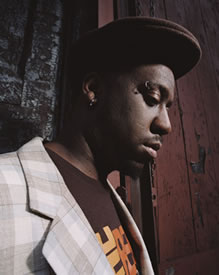 New School Jazz alumnus Robert Glasper
New York, April 17, 2008—The Robert Glasper Trio and the bird and the bee will be performing at "New Horizon," a benefit concert for The New School for Jazz and Contemporary Music, on Monday, June 2, at 7:30 pm in The New School's historic Tishman Auditorium, 66 West 12th St, New York. Acclaimed jazz pianist Robert Glasper and multi-instrumentalist Greg Kurstin of the pop-psychedelic band, the bird and the bee, are alumni of the school. The concert will be the first New York City show for the bird and the bee since the release of their new album, "One Too Many Hearts." Proceeds from ticket sales will support scholarships and academic initiatives at the school.
"Robert's and Greg's careers truly embody the school's mission, which is focused on immersing our students in the jazz tradition, while enabling them to craft a singular creative voice," said Martin Mueller, Executive Director of The New School for Jazz and Contemporary Music. "Greg and Robert have taken what they have learned at The New School to create innovative and provocative music that is receiving increasing critical acclaim and audience attention."
The Robert Glasper Trio's 2005 Blue Note debut, "Canvas," has earned wide critical accolades from mainstream and jazz press, while their most recent album, "In my Element," has also been a great success. "Few [up-and-coming jazz pianists] are generating as much buzz as Robert Glasper," declared TIME magazine. Since his early years at The New School, Glasper has been crafting an individual sound that has roots in jazz but embraces hip-hop. As a result of this innovative sound, many hip-hop artists have sought him out to perform on their records, including Mos Def, Common, Talib Kweli, the Roots, Jay Z, Erykah Baduh, Slum Village and more. A Texas native, Glasper moved
to New York in 1997 to study at The New School, where he met his future band mates, Vicente Archer and Damion Reid. As an undergrad, Glasper also performed with Christian McBride, Russell Malone and Kenny Garrett. These experiences led the way to an active professional life after The New School; upon graduation Glasper performed with Nicholas Payton, Roy Hargrove, Terence Blanchard, Carmen Lundy, and Carly Simon.
"Greg Kurstin ("bee") and Inara George ("bird") make syncopated danceable pop that sounds like audible sunshine," said Rolling Stone about the duo. Kurstin, a Los Angeles native, was a jazz piano prodigy as a child, and moved to New York in 1989 specifically to study with Jaki Byard at The New School, a jazz icon best known as Mingus' pianist. After his time at The New School, Kurstin returned to Los Angeles and became one of the city's most well respected musicians. He connected with a fellow musician, Inara George, over a shared love of jazz standards, and together they started the bird and the bee. The band is lauded for their unorthodox sound, a "sweet electronica-dusted pop sound with an easy jazz basis but a complex musicality." Kurstin has also found great success as a solo artist; his recent co-writing and production credits include projects with Lily Allen, Kylie Minogue, Peaches, Flaming Lips, Karen O, All Saints, Sia Furler, Pink, Natasha Bedingfield, and Donna Summer, to name a few.
For tickets, please call 212.229.5662 x3829 or visit www.jazz.newschool.edu, where you can download the ticket order form. General admission is $60 while VIP seating is $350. VIP tickets include a post-concert reception with the artists; all contributions in excess of the fair market value of the evening (valued at $160 per $350 ticket) are tax-deductible within the limits prescribed by law.
About The New School for Jazz and Contemporary Music
The New School for Jazz and Contemporary Music is the musical manifestation of The New School. A major presence during the formation of the jazz movement in New York City in the early twentieth century, The New School was the first university to offer a course in jazz in 1941. Following this was a half-century of dynamic musical programming for the public featuring outstanding jazz artists from Art Tatum and Louis Armstrong to Jon Hendricks and Pat Metheny. The School was formally founded in 1986 by David Levy and jazz saxophonist and iconoclast Arnie Lawrence, and remains at the forefront of music education by combining the teaching model of the community-based, mentor-student style of jazz's early years with the academic rigor of a modern conservatory. In its 21-year history, the school has produced some of the brightest stars in jazz as of late, including Miri Ben-Ari, Peter Bernstein, Walter Blanding Jr., Avishai Cohen, Robert Glasper, Larry Goldings, Roy Hargrove, Susie Ibarra, Ali M. Jackson, Greg Kurstin, Virginia Mayhew, Brad Mehldau, EJ Strickland and more. For more information, please visit www.jazz.newschool.edu.
# # #