PARSONS PRESENTS 2008 I.D. ANNUAL DESIGN REVIEW
Exhibition Offers Timely Look at the
Best of Contemporary Design

On View July 10 – September 28, 2008 at the
Sheila C. Johnson Design Center in New York

Opening Reception July 9, 6-8 pm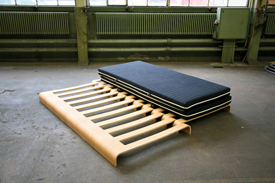 Drexler Guinand Jauslin, Simpledoubledeux Bed
NEW YORK, June 4, 2008—This summer, Parsons The New School of Design is partnering with I.D. magazine to present an exhibition of the I.D. Annual Design Review. On view July 9–September 28, 2008, the Review offers a rare and timely look at the state of contemporary design. More than 130 works representing the finest examples produced in a wide range of design categories will be on view at Parsons' new exhibitions center, the Sheila C. Johnson Design Center by Lyn Rice Architects, which itself has won accolades for its cutting-edge design.
"The Sheila C. Johnson Design Center was conceived to be a place where our students, faculty and the general public can engage in a discourse about art and design," said Parsons Dean Tim Marshall, who also served as a juror in the competition. "What better exhibition to feature in our first year of programming than the I.D. Annual Design Review, which for over 50 years has brought attention to the highest levels of design innovation from the mundane to the exotic."
For the competition and related exhibition, I.D. has selected the finest examples of work produced in eight wide-ranging design categories, with the help of prominent experts in the field. Every year, the review grows more competitive, drawing more than 2,000 entries from every part of the world. The resulting designs will also be featured in the July/August issue of I.D. magazine.
"In addition to recognizing design excellence, a major goal of the review is to bring public awareness to designers who are breaking new ground on a number of fronts," said Julie Lasky, editor-in-chief of I.D. "We are excited to be expanding the reach of the Review through this summer exhibition at the Johnson Design Center, and look forward to connecting with a new generation of designers at Parsons."

Of the featured works recognized in each of the eight categories—consumer products, graphics, packaging, environments, furniture, equipment, concepts, and interactive—one entry is selected as the best of its category, with others receiving design distinction or honorable mention. Not surprisingly, among the "best of" work from the past year is the iPhone from Apple in the consumer products category. A bit more surprisingly is some of the other work recognized for honors, which range from Revlon's Polish Prep Nail Smoother to Puma's PT3 Ultramagnetic Collection, a limited edition table-tennis paddle set.
"I think the public will be surprised and delighted by some of the projects that will be on view in the exhibition," said Christopher Mount, Parsons director of exhibitions and public programs, who also served as a juror in the competition. "It was particularly exciting to see the wide range of designers, from the well-known to the as of yet undiscovered, whose work is celebrated through the Review."
Among the works on view is the new New York City Condom Dispenser by the noted industrial designer Yves Béhar of Fuseproject, who is also known for his design of the "One Laptop per Child." Another is the Datum Line, an innovative conceptual project that would visibly communicate the impact of the melting polar ice sheets on the world's sea levels. The creators, Greg Matson and Phil Arias from JWT New York, propose turning off every light of every building on the northern midtown Park Avenue corridor except those on the 8th floor (approximately 80 feet above) for one night, demarcating the new sea level. Bikedispenser, from the Dutch company Springtime, is a fully automated bicycle rental station that has been called "like PEZ but good for you." The Mute Chair, by experimental designers Maaike Evers and Mike Simonian for Council, is "designed to inspire serenity and calm." Simpledoubledeux, designed by Drexler Guinand Jauslin Architects of Zurich, is a bed frame made of two interlocking wood elements that can come apart to create two single beds, or fits together to create one single or double bed.
The exhibition will feature a majority of these projects in real form, with others represented creatively by the exhibition designers Paul Carlos and Urshula Barbour of Pure+Applied, who also teach at Parsons. A panel discussion featuring several of the designers featured in the exhibition will take place in September; for more information, please visit www.newschool.edu/johnsondesigncenter.
For a full list of projects, please CLICK HERE.
For a contact sheet of available images, please CLICK HERE.
Published since 1954, I.D. Magazine is America's leading critical magazine covering the art, business, and culture of design. Winner of five National Magazine Awards, the publication appears seven times a year. Issues include the Annual Design Review (America's oldest and most prestigious juried design-recognition program) as well as the I.D. 40 and Design + Business issues. For more information, visit www.id-mag.com.
Parsons The New School for Design is one of the most prestigious and comprehensive institutions of art and design in the world. Located in New York City, Parsons prepares students to creatively and critically address the complex conditions of contemporary global society. Combining rigorous craft with cutting-edge theory and research methods, Parsons encourages collaborative and individual approaches that cut across a wide array of disciplines. For more information, please visit www.parsons.newschool.edu.
# # #
General Information:
Sheila C. Johnson Design Center
Parsons The New School for Design, 66 Fifth Avenue at 13th Street, New York
Gallery hours: M-F, 10 AM-8 PM; S-S, Noon-6 PM
Admission: Free
Info: Please contact 212.229.8919 or visit www.newschool.edu/johnsondesigncenter.