PARSONS PRESENTS DESIGN BUILD IN NEW YORK
The Design Workshop: Seven Years of Design Build at Parsons
On view November 17-December 19, 2005
NEW YORK, August 15, 2005 – Parsons The New School for Design** will present The Design Workshop: Seven Years of Design Build at Parsons, organized by the Department of Architecture, Interior Design and Lighting. The exhibition will showcase the school's innovative studio program that provides Parsons graduate architecture students with the rare opportunity to realize a design project in built form, while providing pro-bono architectural and construction services to nonprofit organizations in New York City. The exhibition will be on view from November 17 through December 19.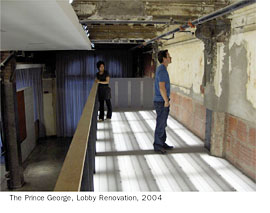 "The Design Workshop is a unique opportunity for students to work collaboratively with nonprofit organizations, helping them realize design projects in the complex urban environment of New York City," said Peter Wheelwright, Chair of the Department. "While the strength of a community-based, nonprofit organization lies in their ability to meet the needs of distressed neighborhoods and underserved populations, most lack the financial wherewithal to contract with architects and builders."
The Design Workshop was formally launched in 1998 as part of the school's commitment to design as a social practice, and to explore the viability of a design-build program in an urban environment. Since then, Parsons has collaborated with a variety of nonprofit organizations and public agencies confronting urban issues from green space and education to recreational activities for children.
Design Workshop projects have included the lobby renovation of the Prince George for Common Ground Community, a nonprofit organization dedicated to providing safe, attractive and affordable housing for the formerly homeless; and the renovation of a 4,000-square-foot space in Tribeca into a flexible studio for young art students for the New York Studio Program, a program of the Association of Independent Colleges of Art and Design that enables students from schools across the nation to live and study in New York.
Projects also have included the design and construction of an athletic field house at the Grand Street Campus High School in Williamsburg, Brooklyn for Take the Field, a public-private partnership that is rebuilding the athletic facilities of New York City public schools. Most recently, graduate students worked with the Lower Manhattan Cultural Council (LMCC) on the construction of a series of flexible and transportable "event" structures for the LMCC's award-winning Artist-in-Residency program. Encompassing reception, bar, media, and seating units and a docking wall, the structure is designed so that the LMCC can configure event spaces for 10 to 100 or more attendees.
While most academic design-build programs, such as Auburn University's Rural Studio in Alabama, focus on building in rural or small-town neighborhoods, The Design Workshop is one of the only programs situated in a complex and diverse urban environment such as New York City. Students are challenged not only by the necessity to work with existing design idioms, but also with issues of historic preservation, labyrinthine building codes, zoning restrictions, controlled inspections, insurance laws, and labor unions. The Design Workshop encompasses a design development and construction document phase during the spring semester when second-year graduate students work collaboratively with their non-profit partners. During the summer, students construct their design using donated building materials as well as those afforded by the clients' budget. Each student works full-time from May to September "in the field," in order to complete the project on schedule.
In addition to providing free design and construction services, students offer technical and aesthetic advice and engage in community relations and advocacy. Moreover, they encourage the use of untraditional materials and methods of construction, enabling clients to get more for less. Common strategies involve the use of recycled and environmentally friendly building materials, as well as the innovative application of inexpensive materials and "off the shelf" building components. By incorporating low-maintenance materials into the design, The Design Workshop is able to reduce operating costs for its nonprofit partners over the long-term.
"By bridging the gap between design theory and practice, and the classroom and community, The Design Workshop is an excellent example of Parsons' commitment to engaging its students in broader social issues," said Parsons Dean Paul Goldberger. "Through this collaborative studio, Parsons students gain a better understanding of the role of the architect in improving the social and physical conditions of New York City neighborhoods."
Parsons Architecture, Interior Design and Lighting Department offers several programs in design studies, including an NAAB-accredited professional Master of Architecture degree. The department's small size, atelier atmosphere and urban environment support an intimate program where students work closely with a faculty of distinguished professional architects, designers, historians, and theorists drawn from New York's international design community.
Located in the heart of New York's Greenwich Village, Parsons The New School for Design** is one of the largest degree-granting colleges of art and design in the nation, with more than 3,000 students in degree programs, and1,700 non-degree students from all 50 states and approximately 60 countries. Parsons has been a forerunner in the field of art and design since its founding in 1896. Parsons' rigorous programs and distinguished faculty embrace curricular innovation, pioneer new uses of technology, and instill in students a global perspective in design. For more information, visit www.parsons.newschool.edu.
**Parsons, a division of The New School, has changed its name to Parsons The New School for Design as part of a new university-wide identity program, please visit identity.newschool.edu for more information.