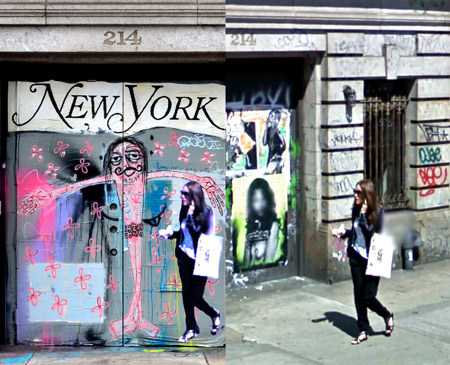 Paolo Cirio, Street Ghosts, 2012, on view in The Public Private
EDITOR'S NOTE: FULL CALENDAR OF EVENTS IS AVAILABLE BY CLICKING HERE
NEW YORK, February 1, 2013 – The New School, including Parsons The New School for Design and the Vera List Center for Art and Politics, has announced its art and design public programming for this winter and spring.
The Shelia C. Johnson Design Center (SJDC) at Parsons opens its new exhibition The Public Private on February 7. Curated by Christiane Paul, an associate professor of Media Studies at The New School and adjunct curator of New Media Arts at the Whitney Museum of American Art, the exhibition is New York's first retrospective of art addressing the issue of privacy in the age of social media. The works—several presented for the first time in the United States—include Paolo Cirio and Alessandro Ludovico's Face to Facebook, which appropriates one million Facebook profiles to create a custom-made dating website, as well as multimedia pieces by Jill Magid, Luke Dubois, Carlo Zanni, James Coupe, Eva and Franco Mattes, and Ben Grosser.  In addition, the SJDC will also present the exhibitions Sophie Gimbel: Fashioning American Couture (though February 12) and REACT: The Feminine Mystique at 50 (February 21 – March 5).
This semester, the School of Art, Media, and Technology at Parsons hosts the Parsons Visiting Artists Lecture Series, featuring Mierle Laderman Ukeles (February 6), Johan Grimonprez (February 13), Julie Ault (February 20), Paula Hayes (Februray 27), Wu Tsang (March 6), Hans Haacke (March 13), Jack Whitten (March 20), Martin Kersels (April 3), Dolores Zinny (April 10), Nayland Blake (April 17), Pedro Lasch (April 24), and Fia Backström (May 1).
Parsons will also host several annual events, including the Parsons Festival (May 7-24), which features exhibitions, lectures, workshops and other events celebrating the creativity and talent of its students; Pictoplasma New York (February 8 & 9), which brings together the best character-driven art and design; AFTERTASTE: The Atmosphere of Objects (February 22 & 23), its annual interior design symposium; Negotiating the Terrain of Design Studies: Research, Reflection, Practice (March 1 & 2), which celebrates the inaugural year of the new MA Design Studies program at Parsons; and The Photographic Universe, presented with Aperture Foundation, which explores new developments in the field of Photography (March 10 & 11).

The Vera List Center for Art and Politics at The New School, celebrating its 20th anniversary year, continues its yearlong series Thingness, with lectures presented in collaboration with the Public Art Fund by artists Thomas Schütte (March 4) and Ugo Rondinone (May 8). The center also presents the conference What We Made: Conversations on Art and Social Cooperation, in collaboration with the Queens Museum of Art and Creative Time (February 20), and Who Builds Your Architecture? (April 22) a roundtable discussion examining the ethics of contemporary architecture.  In collaboration with SculptureCenter, the center also presents a talk by the artist Agneiwszka Kurant (February 11).
Public programs are subject to change; please visit the New School events calendar for the most up-to-date information at www.newschool.edu/events.

EDITOR'S NOTE: FULL CALENDAR OF EVENTS IS AVAILABLE BY CLICKING HERE
About The New School
The New School, a leading progressive university in New York City, was founded in 1919 as a center of intellectual and artistic freedom. Today The New School is still in the vanguard of innovation and experimentation in higher education, with more than 10,000 undergraduate and graduate students in design and the social sciences, liberal arts, management, the arts, and media, and thousands of adult learners in continuing education courses. Committed to public engagement, The New School welcomes thousands of New Yorkers yearly to its celebrated public programs and maintains a global presence through its online learning programs, research institutes, and international partnerships. Learn more at www.newschool.edu.