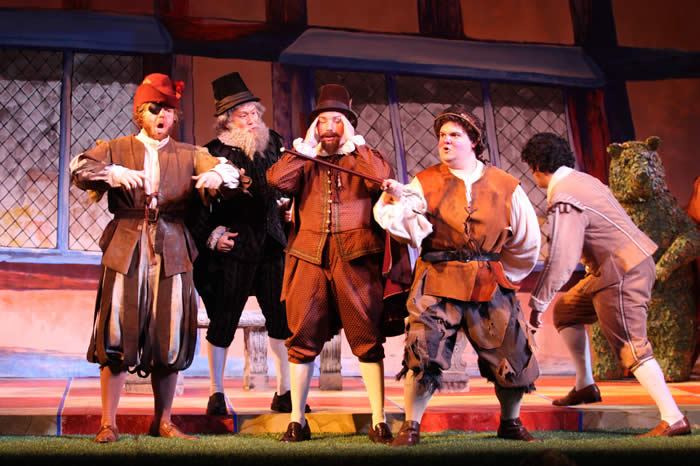 Mannes Opera students in the 2011 production of Falstaff (Photo: Eugenia Ames)
NEW YORK, January 11, 2012 - From the heart of New York's vibrant music scene, Mannes College The New School for Music presents its winter-spring calendar of public programming featuring opera, orchestral works and chamber music from established voices and emerging talent.
EDITOR'S NOTE: CLICK HERE TO DOWNLOAD A FULL CALENDAR OF EVENTS
"Our mission of raising up the next generation of great classical music artists includes educating the next generation of great classical music audiences," says Mannes College Dean Richard Kessler. "Mannes' world-renowned faculty of professional artists and passionate students make it possible for us to offer a broad range of performances of the highest quality to anyone who loves music."
The season will feature two fully staged performances by the Mannes Opera, acclaimed by the New York Times for the "excellence of its student singers." Gaetano Donizetti: Commedia - Tragedia (January 13 and 14) includes selections from Lucia di Lammermoor, Don Pasquale and La Fille du Regiment. The Mannes Opera will finish the semester with performances of Mozart's Don Giovanni (May 4 and 5). Since 1998, the Mannes Opera has performed under the direction of Joseph Colineri, who has been a member of the Metropolitan Opera's conducting roster for 15 years. Mannes Opera is accompanied by the Mannes Orchestra, which will also perform independently throughout the semester, with programs of Schumann and Bartok (February 8), Beethoven and Schnittke (February 27), Wagner, Liszt and Tchaikovsky (April 6) and others.
Mannes will also offer two robust and diverse chamber music series. The Schneider Concerts chamber music series, a fixture of New York's musical life since 1957, has been hailed in the New York Times as "one of the best deals in town for lovers of classical music," and is known for presenting many of the world's chamber music notables before their rise to fame. 2012 Schneider series groups will include East Coast Chamber Orchestra - ECCO (February 5), the Elias Quartet (March 25), the Schumann Piano Trio (April 1) and the Amstel Quartet (April 29). Chamber musicians from Mannes will perform throughout the semester in Ernst C. Stiefel Chamber Music Series, which brings noontime chamber concerts to The New School's West Village campus. In addition, the famed Orion String Quartet will perform at the school on May 9.
Along with new performers, the semester's public programming will also highlight new composers. The Mannes Contemporary Music Festival will feature new music in the classical idiom with events including Percussion Ensemble performance (April 23); NewMusicMannes (April 24), in which students perform new solo and chamber works; and CICE, Composer-in-Residence Chamber Ensemble (April 25), exploring the works of visiting composer Lowell Lieberman.
EDITOR'S NOTE: CLICK HERE TO DOWNLOAD A FULL CALENDAR OF EVENTS